バトルアリーナ闘神伝
Eiji Shinjo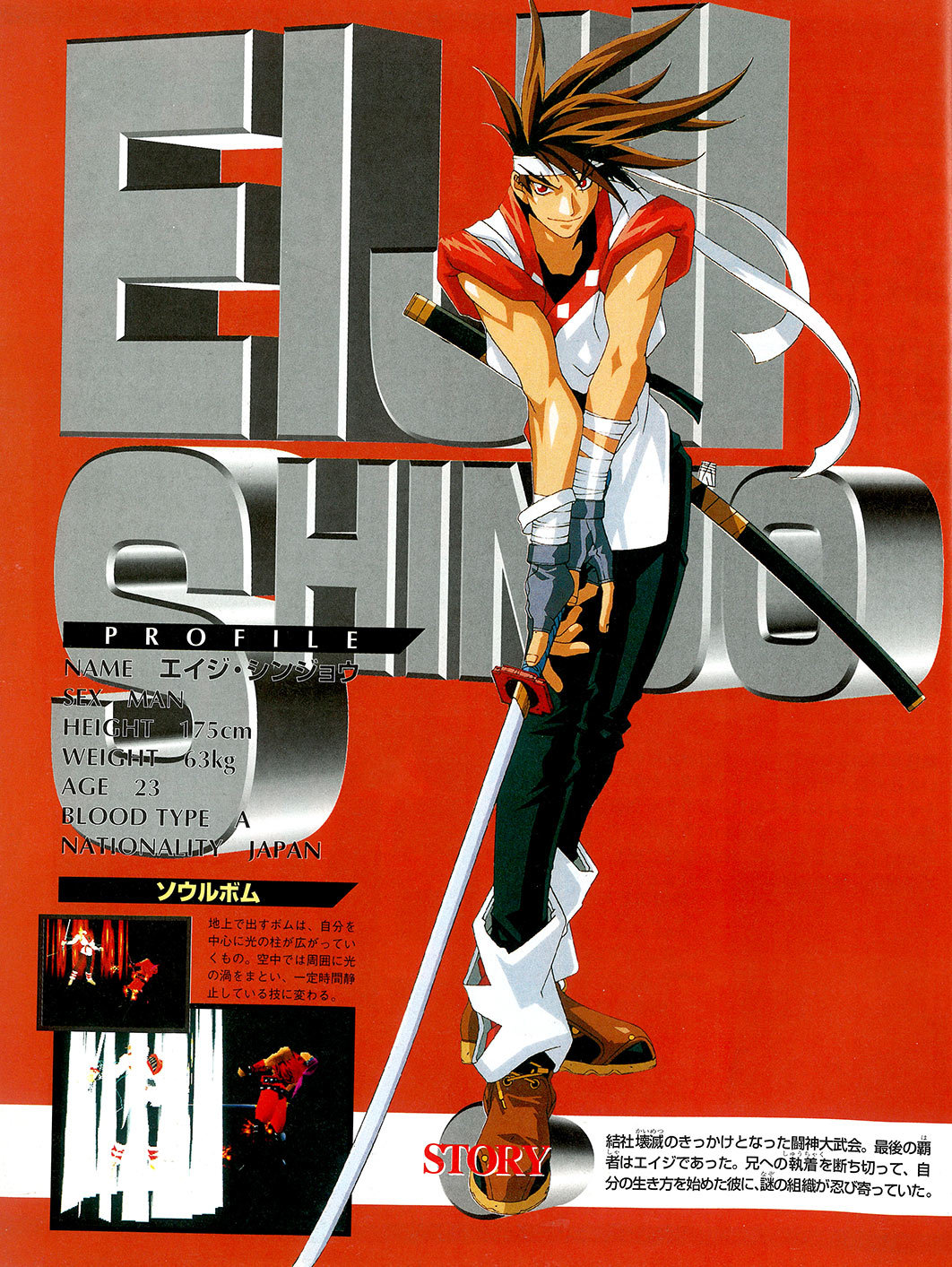 Eiji and his best friend and rival, Kayin Amoh, were both trained from a very young age in the ways of the sword by Eiji's older brother Sho Shinjo. One day, however, Sho simply vanished, leaving Eiji and Kayin behind. As Eiji's skills grew, so did his desire to find his lost brother.
Ellis
Ellis is a dancer, who was raised by a troupe of traveling minstrels, being told that her parents had died when she was a baby. She entered the first Toshinden tournament after hearing of rumors that her father was still alive and would also be participating.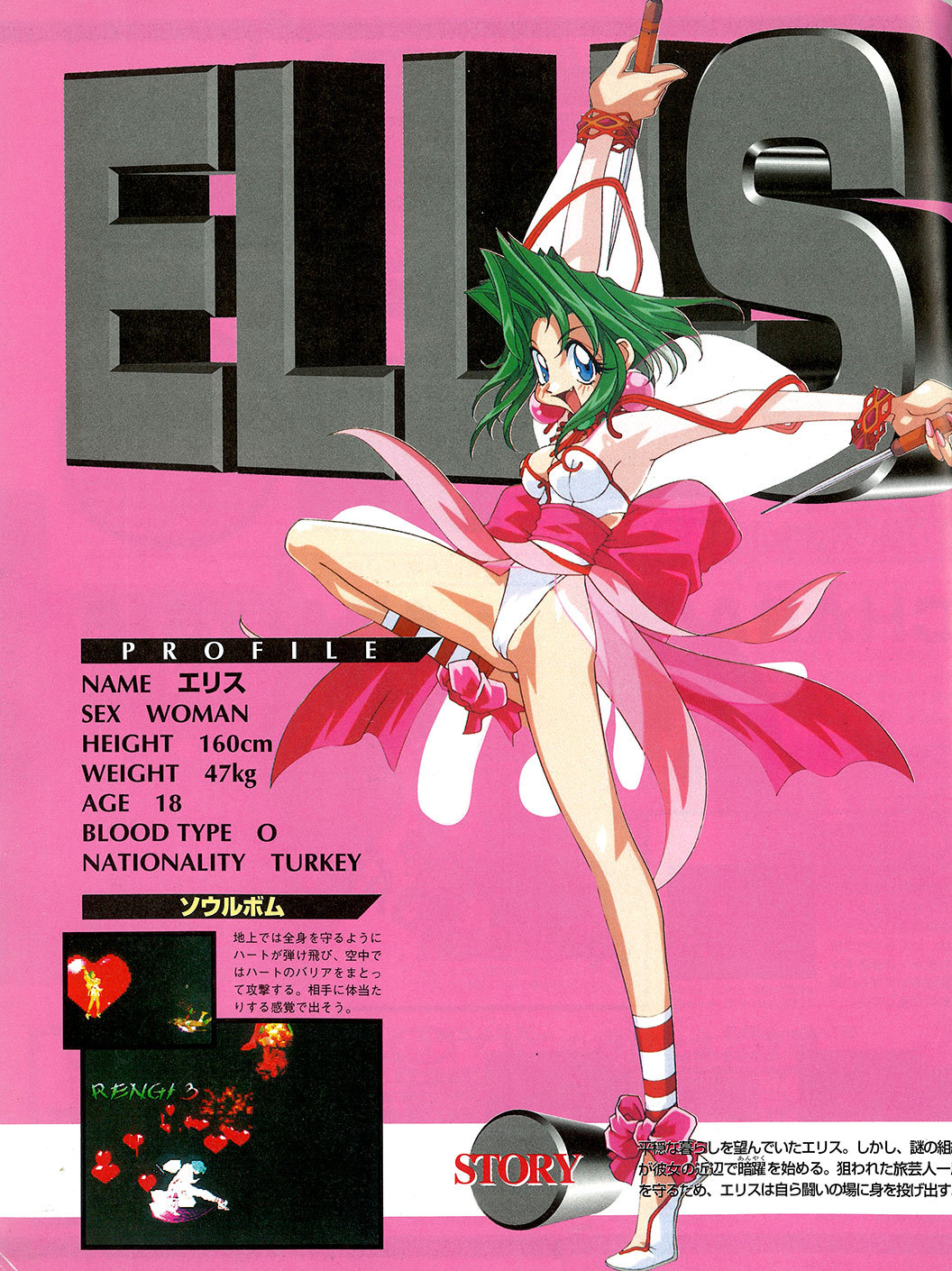 Master
The Master is the highly psychic leader of a criminal organization known as the Himitsu Kessha. She had many bodyguards, the most notable ones being Chaos, Cupido, Gaia and Uranus. However... the Master and Uranus were slain themselves at the end of the tournament by Sho Shinjo.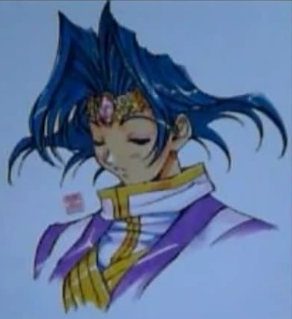 Kayin Amoh
At a young age, Kayin's father was killed by an underworld assassin/bounty hunter named Amou. When Amou discovered that he had slain a father, he took Kayin in to atone for it.
Sofia
Sofia had entered the first Toshindabukai to discover her own shrouded past, but she eventually learned from Gaia that her memory had been tampered with by the Himitsu Kessha.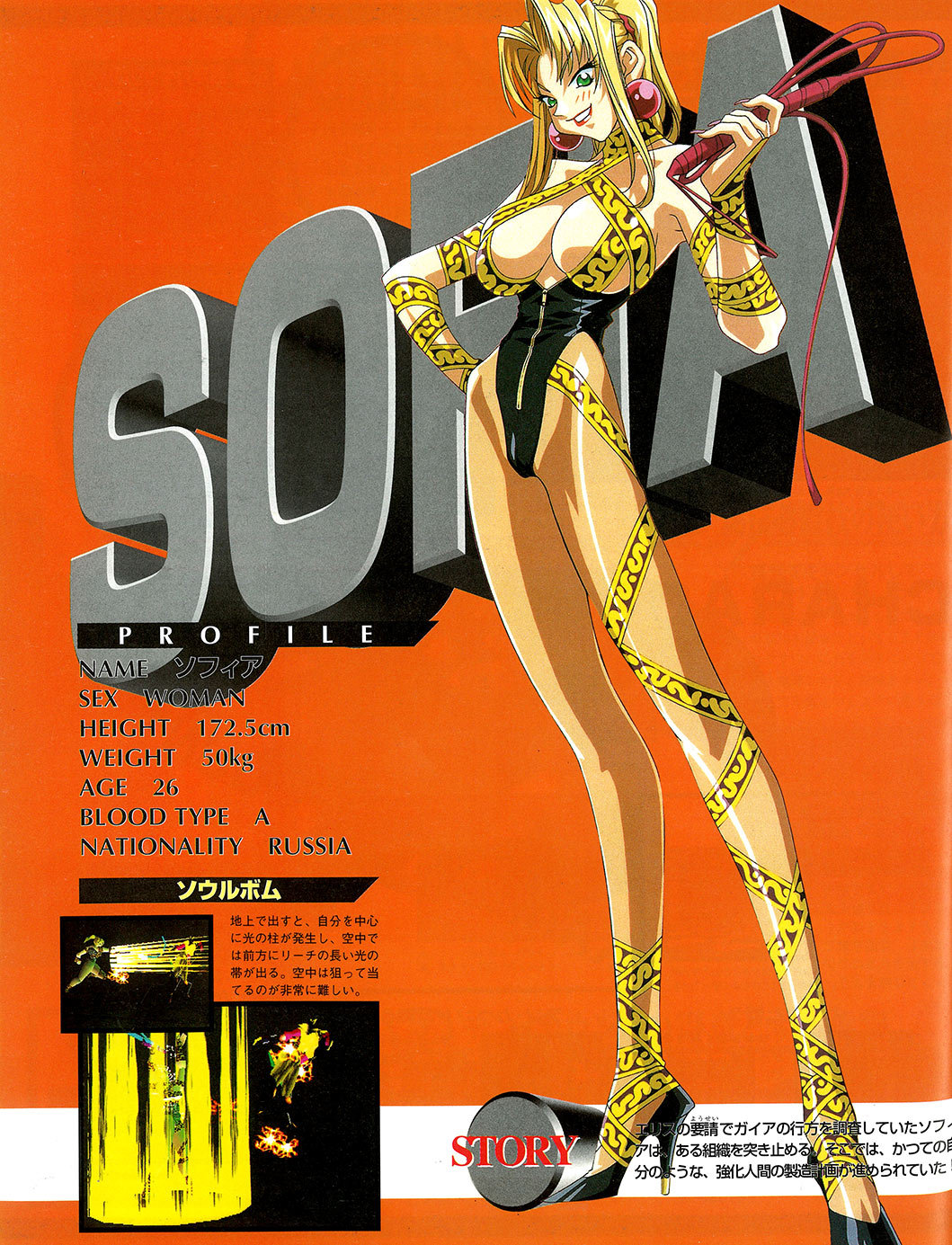 Ron Ron
Ronron was the chief scientist for the Toshinhei Project which was being conducted by Interpol.
This project aimed to create a "Replicant" warrior for peace enforcement and anti-terrorist use. However when Ronron finished creating the prototype, it was stolen by her superior, named Wolf.
Ronron, furious that her creation was now being used for evil, begins to hunt down the prototype unit with the aim of deactivating it.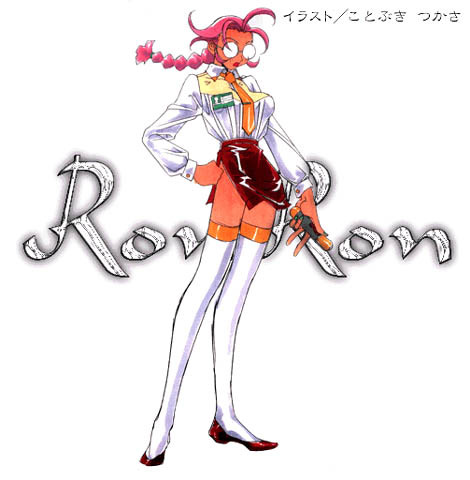 Duke B. Rambert
In the past, Duke was considered the strongest knight in France and a nobleman many people say was unstoppable, but all of that had changed when a young Japanese world-traveller named Eiji Shinjo was challenged to a duel by him. Eiji easily bested the arrogant Frenchman, and Duke vowed revenge.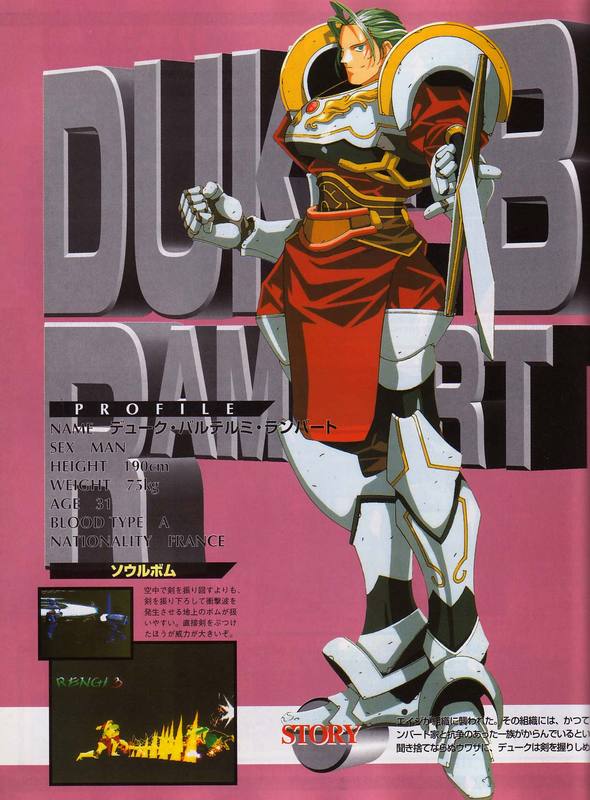 Rungo Iron
Rungo was an ordinary miner, and friends with a fellow fighter named Gaia, but his life had suddenly changed when Gaia had mysteriously disappeared.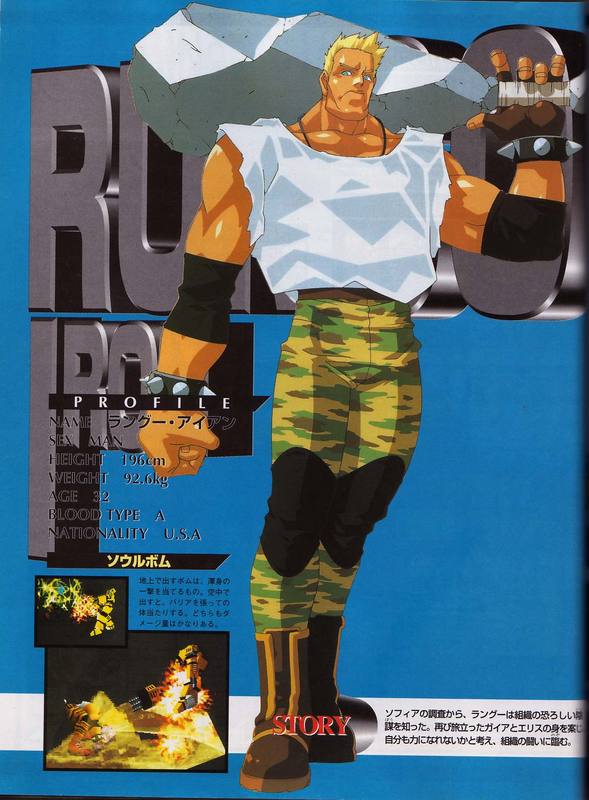 Fo Fai
Although he plays the role of a traveling kindly old magician to most people, Fo is actually a sadistic killer who's heart is as black as the night itself, and he takes the ultimate pleasure in the suffering and killing of others.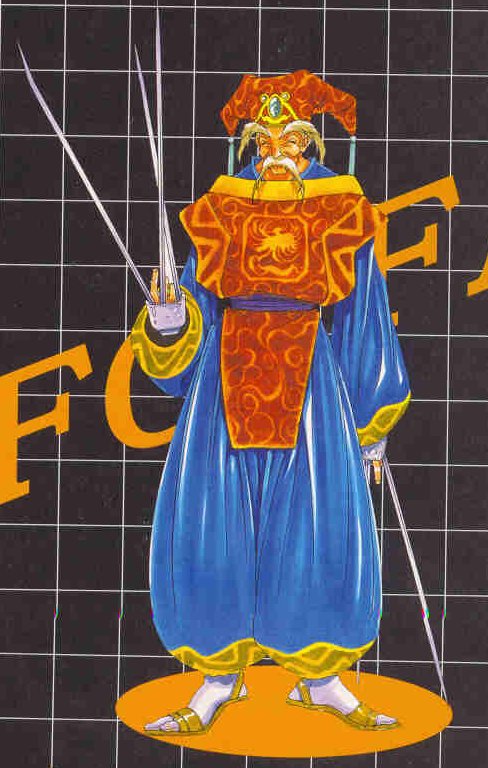 Gaia
Gaia and his wife Kaede were both part of the Himitsu Kessha that sponsored the Toshindaibukai tournaments.
<
static3.wikia.nocookie.net/__c…
">
Sho Shinjo
Sho had trained his younger brother Eiji and Eiji's friend Kayin in the ways of the sword ever since the two were children. One day, however, Sho vanished without any trace, leaving Eiji and Kayin, as he felt they had reached an adequate level of swordsmanship and could train without him.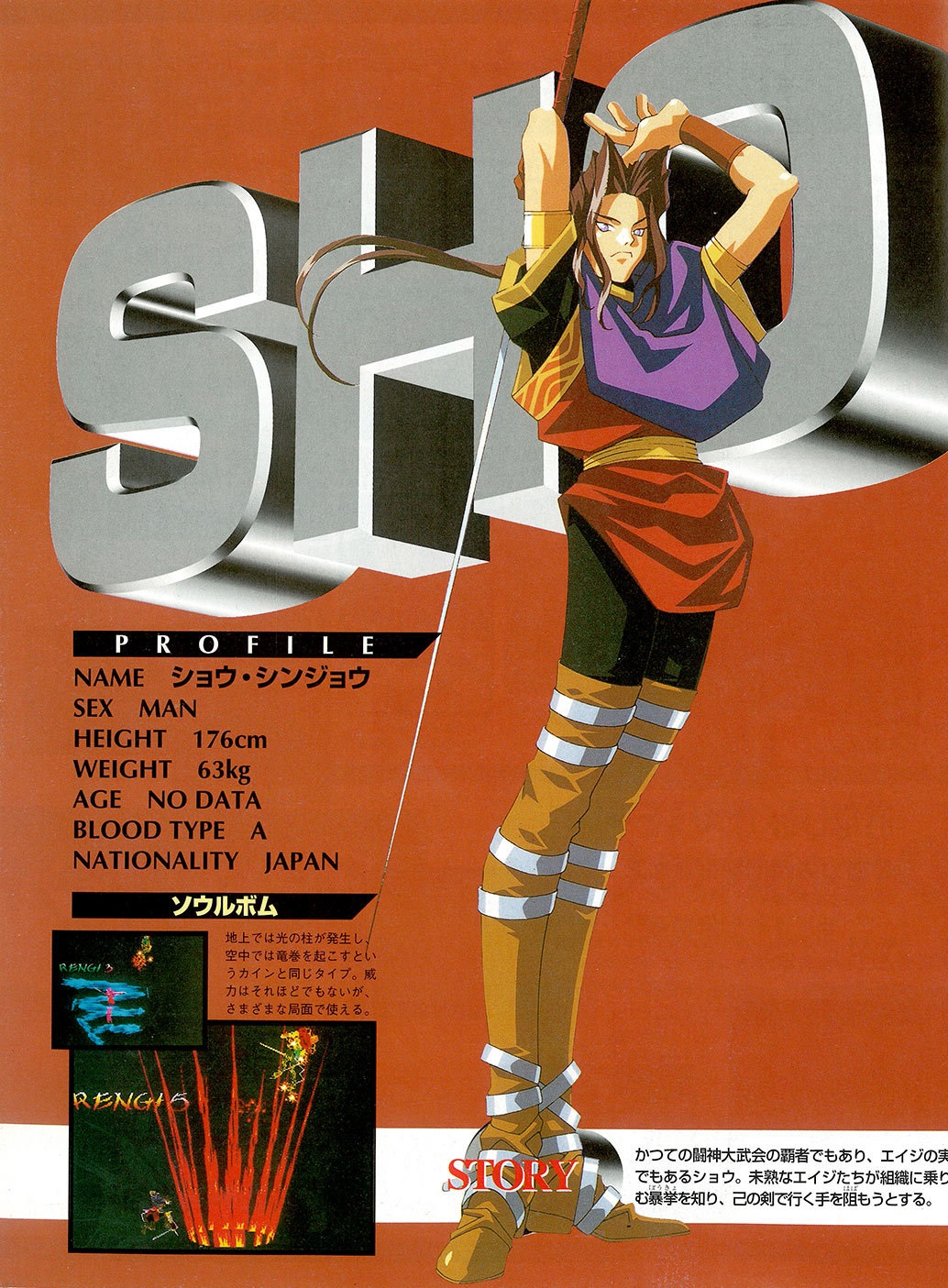 Uranus
Uranus is the angel-like, but extremely power-hungry second-in-command of the Himitsu Kessha, a criminal organization. Prior to joining the Himitsu Kessha, Uranus was an ordinary woman and the girlfriend of Duke B. Rambert.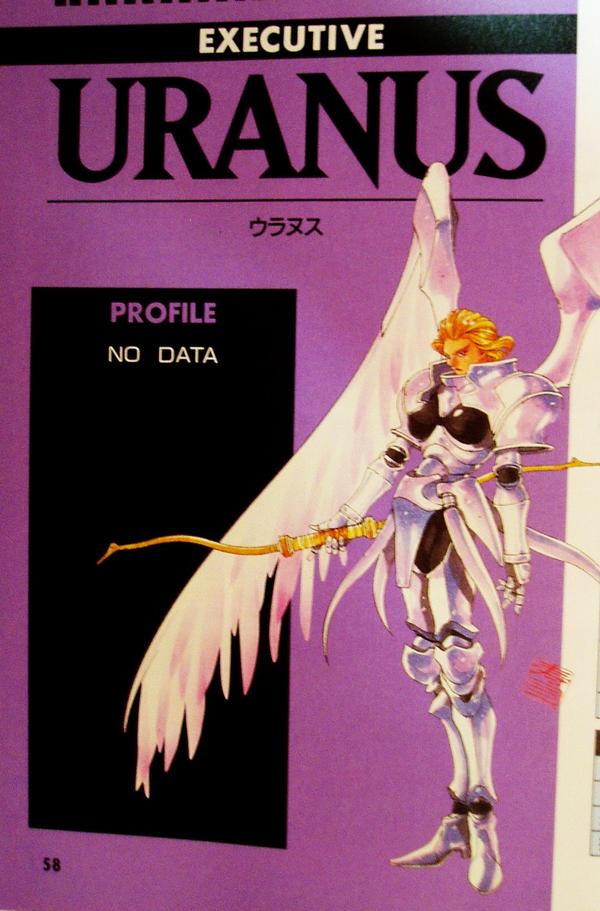 Mondo
Mondo had entered the first Toshindaibukai in order to collect information about the Himitsu Kessha for his unkown client. Even though he was defeated during the tournament, he had gathered enough information on them.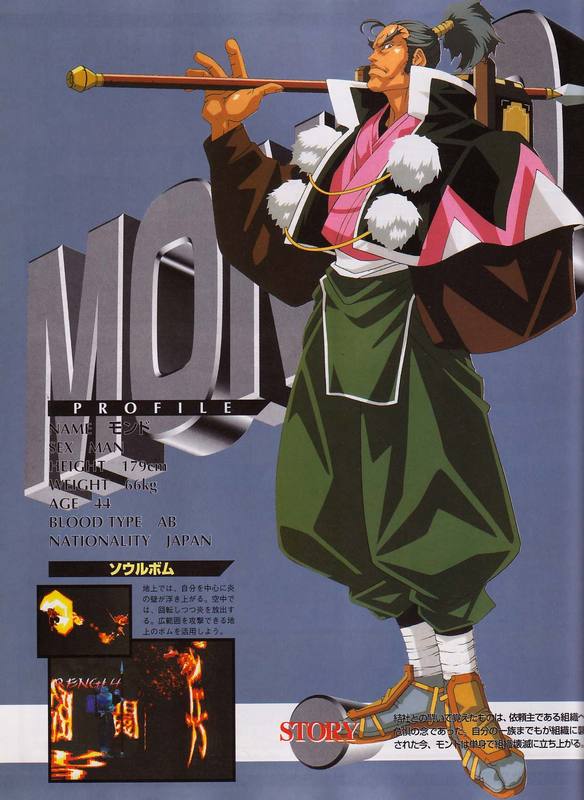 Wolf
Wolf is Ronron's superior who overlooked her progress from within the Toshinhei project and helped her with the creation of the Replicant prototype android. However...Wolf had a true agenda behind the scenario and stole the Replicant prototype unit, using it to dispose of famous martial artists around the world.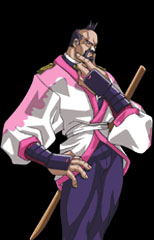 Tracy
Hearing about the death of a woman and a young boy in a past car crash, Tracy entered into the second Toshindaibukai to investigate the activities of the Himitsu Kessha, as the woman's husband, a man named Gaia, had been working for the organization at the time. Tracy, being a skilled fighter, was narrowly defeated by a Japanese swordsman named Eiji Shinjo, but she eventually found the answers she needed: The now-dead Uranus was the one responsible for the deaths of Gaia's wife and son.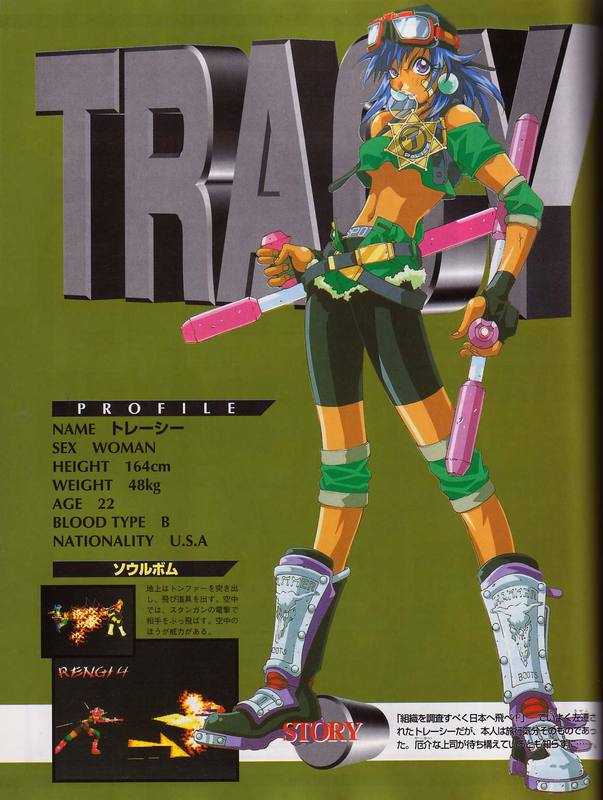 Racheal
Rachael is Tracy's older twin sister and a mercenary who is willing to do any job for cash. Abandoned by her parents at a young age, Rachael was left to fend for herself in a harsh world and she grew up having a bitter and cold personality. As a teenager, Rachael began fighting in the tough streets of New York and most people feared her, due to her violent temper. Within time, Rachael had discovered that she had a twin sister named Tracy who was living a decent life, causing hatred to build up from within Rachael's heart.
Atahua
Atahua is a South American teenage boy who seeks the restoration of his fallen tribe's empire. Raised on the beliefs that his empire was considered the most powerful in South American history, Atahua had done everything he could in order to preserve the legacy of his people's past.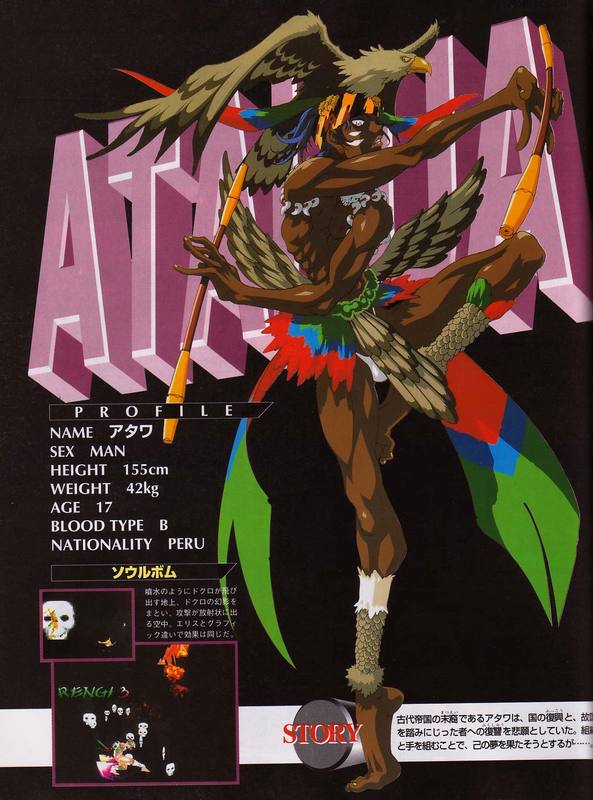 Naru Amoh
Naru is Kayin's adoptive daughter, who was left at an orphanage at the end of the third Toshindaibukai by Kayin, for reasons unknown to her. Though she kept waiting and hoping, Kayin never returned. As time passed, she began to think that the reason her father had left her at the orphanage was because he saw her as a burden. On her sixteenth birthday, she ran away from the orphanage and set out to find her father and the true reason why he had never returned for her.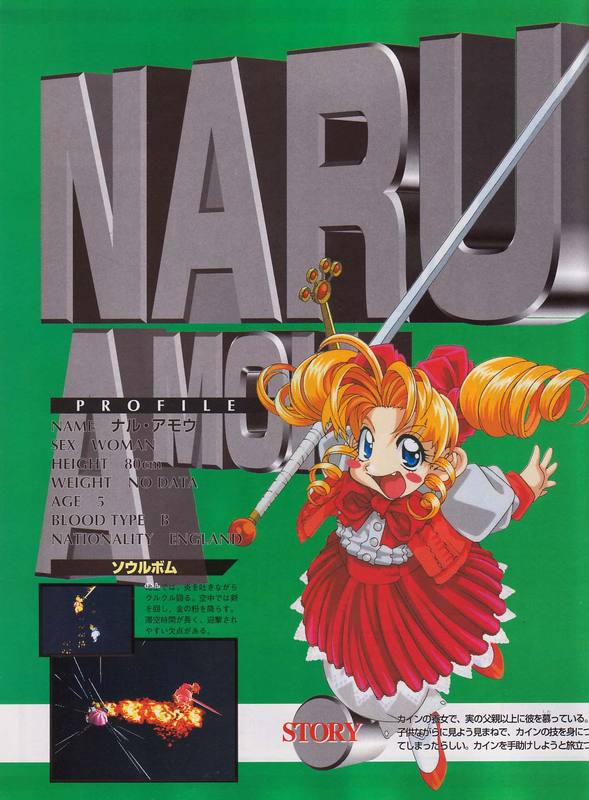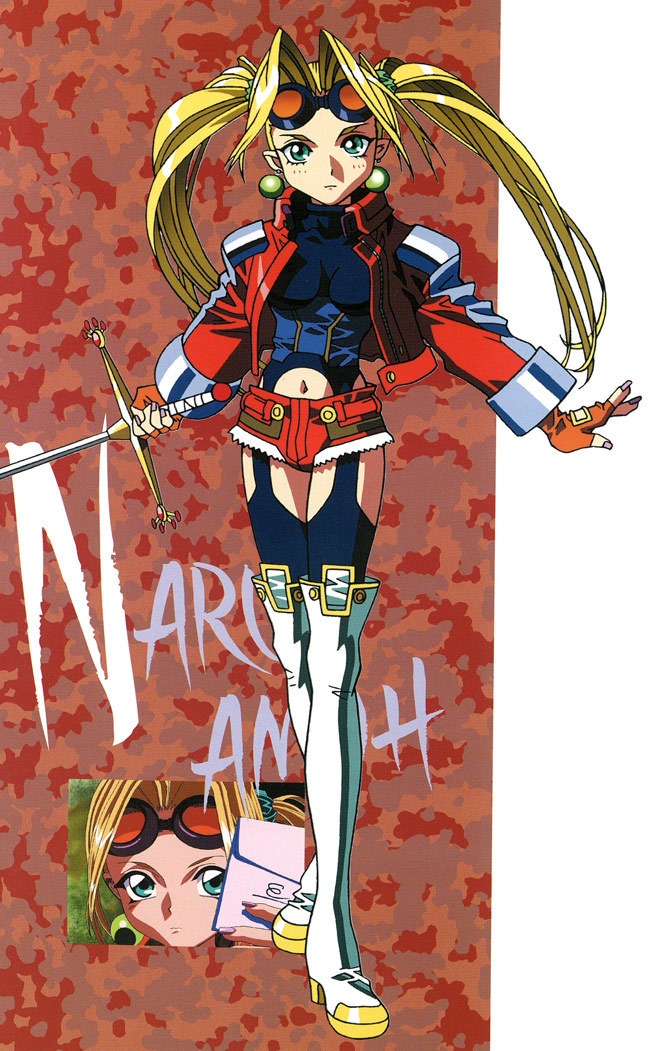 Miss Til
Miss Til is a fortune teller who serves under Abel in the Soshiki as his third-in-command. Also, as Abel's personal fortune teller, Miss Til has been there to give him advice and strategies about his plans so that he can execute them with no problem.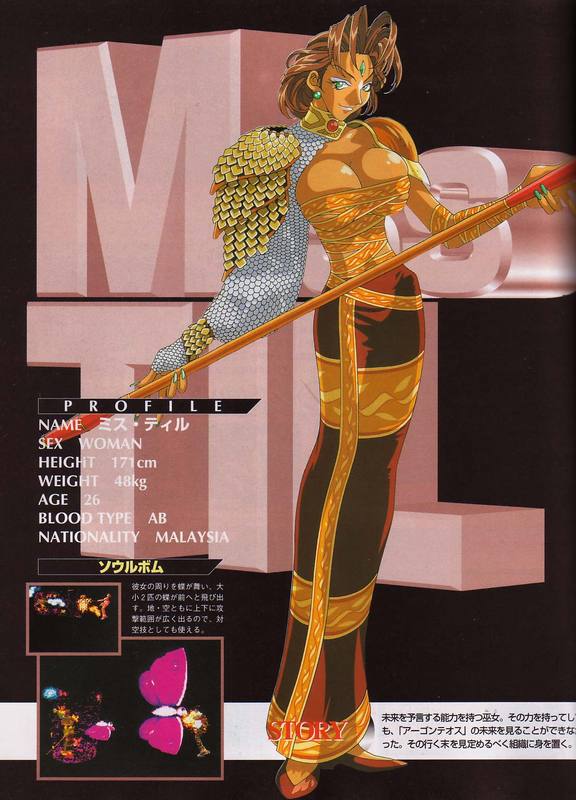 Zola
Zola is a well-renowed Austrian opera singer who doubles as an assassin for the Soshiki. While most people see Zola as a beautiful singer, others see her for what she really is; a mistress of evil who uses her charm, beauty and kinky, cat-like behaviour to distract and surprise her targets, enabling her to kill them with her razor-sharp whip.  Though Zola is considered to be the fastest whip-wielder of the Soshiki, her ability was no match against Sofia's own and Sofia eventually slayed Zola with the use of her Salamander attack.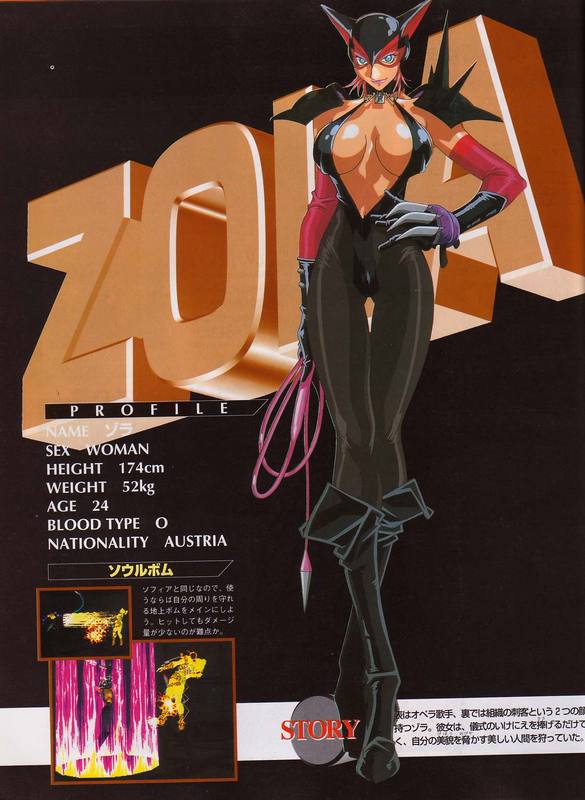 Judgement
Judgement is a mysterious mute killer who wears a hockey mask. Little is known about Judgement's past, Judgement uses his chainsaw to tear apart his victims in an instant.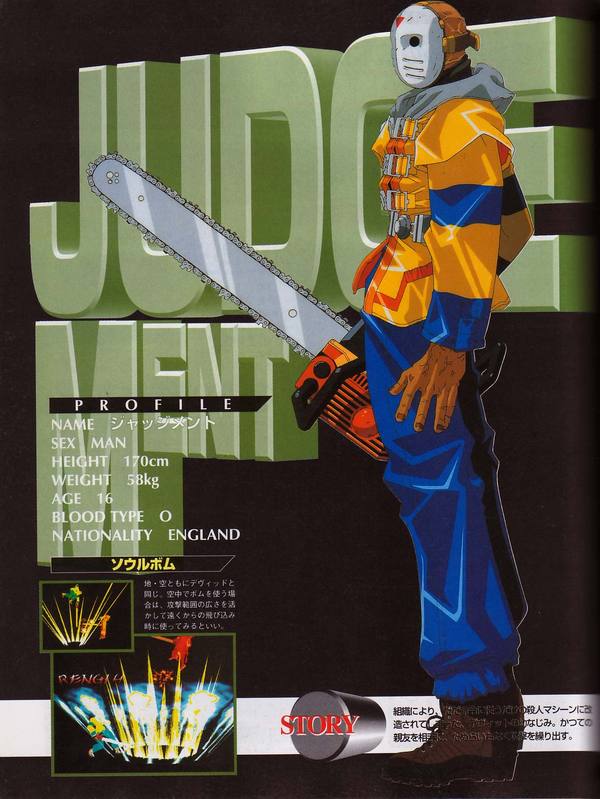 Puella Marionette
Since Puella was an infant, she had been told by the nuns of her religious orphanage that she had been brought in and left by a beautiful blonde-haired woman, (most likely Uranus). One day, while praying at the altar, she was enwrapped in a bright light and an angel-like woman came down from the heavens and gave her a magical, glowing golden bow to her. It turned out to be the Suzaku bow, one of the Four Sacred Arms.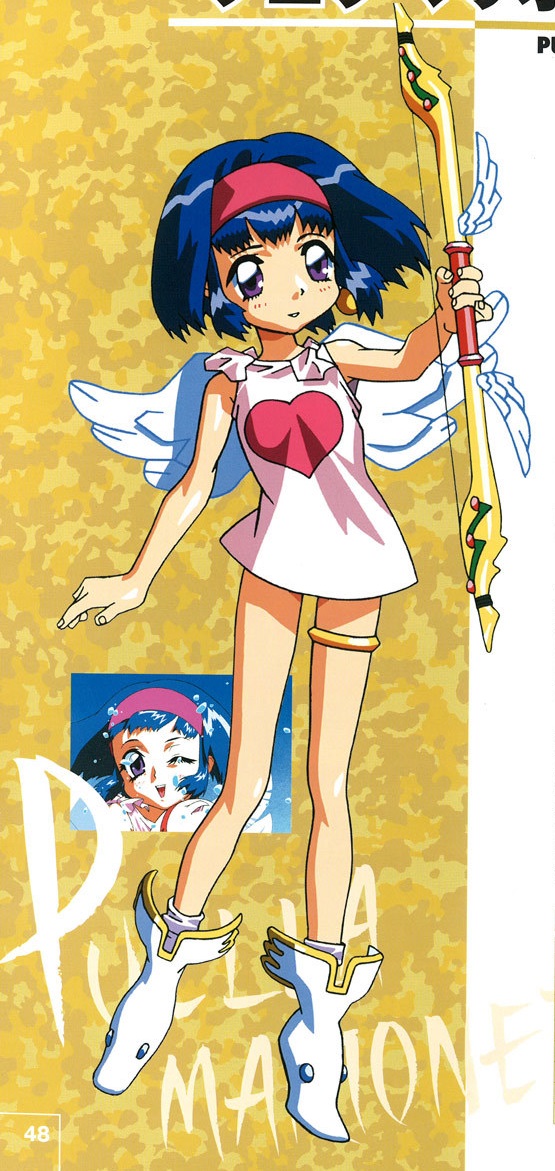 EOS
The angel-like Eos is a biotechnologically-produced masterpiece of the Gerard Foundation. An incredibly powerful warrior, she can predict every move of her opponents. Eiji then gave her the Seiryu spear, Mondo's old weapon, which was one of the powerful Four Sacred Arms. As soon as she held the spear, it changed its shape into a beautiful jewelled rod. She then joined Eiji's team as one of the executives of the Foundation, planning to vanquish the approaching evil and return order and peace to the world.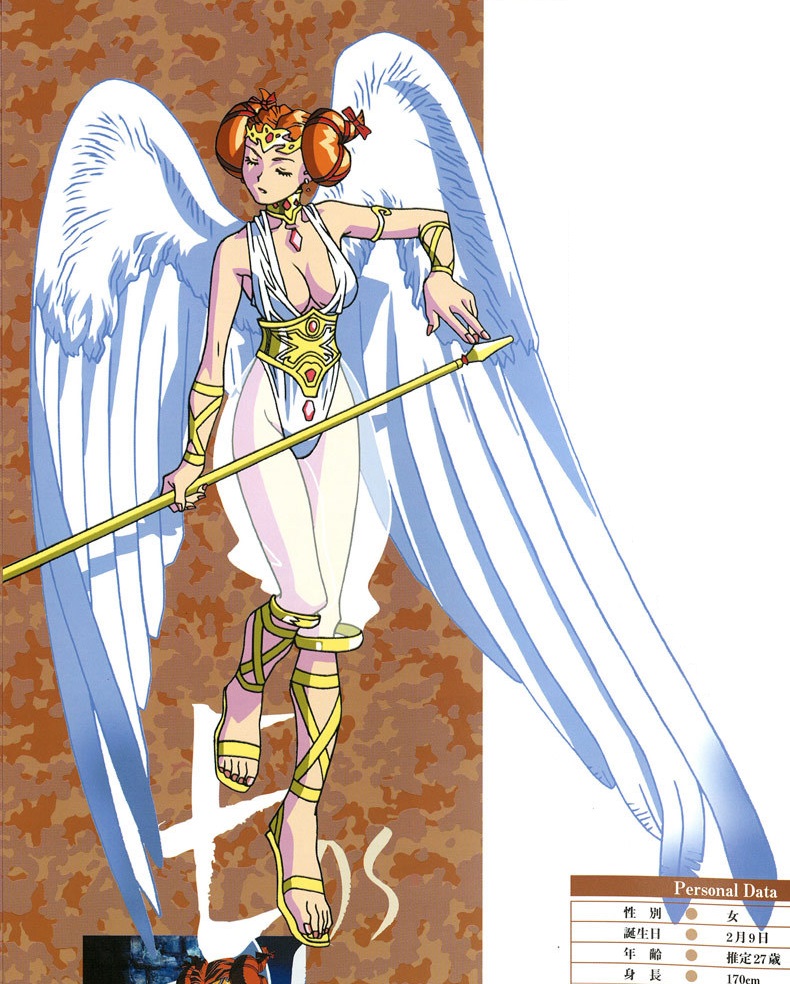 Lancelot Lakeknight
Lancelot is a young English boy who is a champion fencer. One trait that he highly lacks, however, is courage.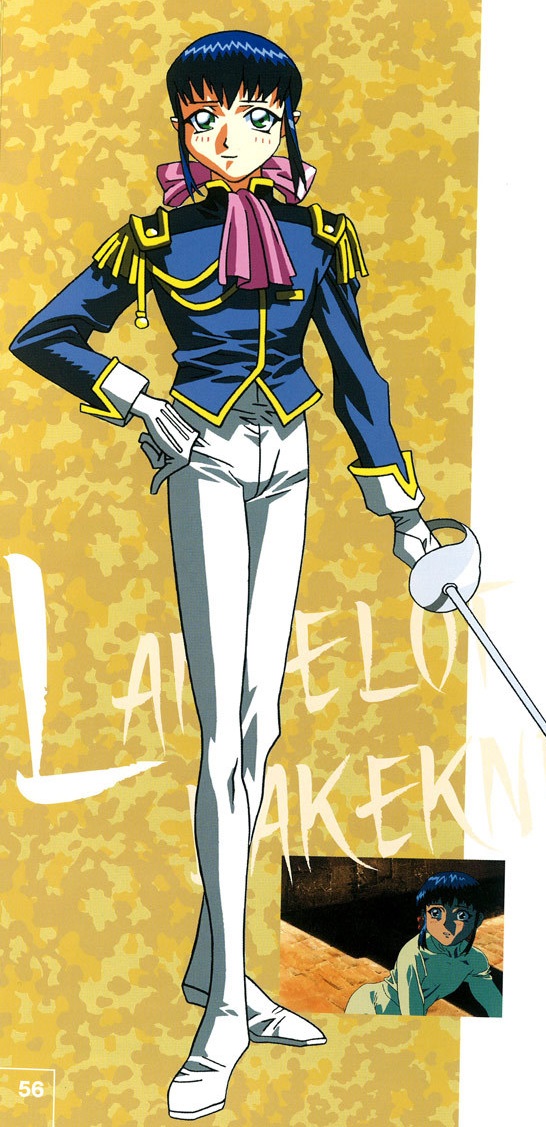 Miyabi
Miyabi is a descendant of a ninja clan, who had received extensive training in becoming a powerful warrior with her large shuriken blade. However, she was unaware that a dark sorcerer named Genma was keeping a close eye on her because of her skill. Eventually, Genma kidnapped Miyabi and cast a spell on her, which erased her memories and planted false ones into her mind, causing her to believe that she had been an orphan born in Hong Kong and Genma had took her in and raised her as a ninja.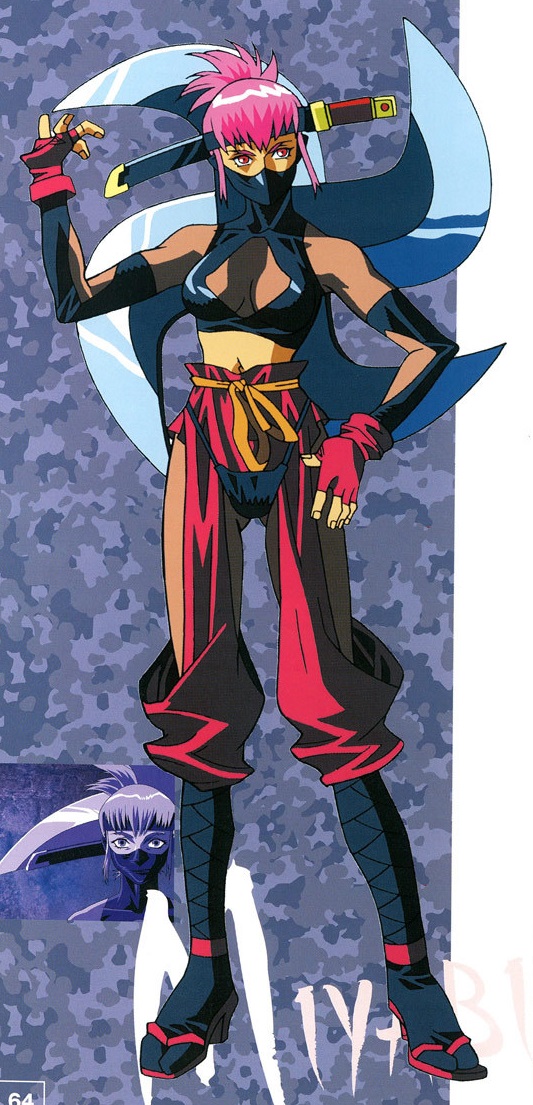 Subaru Shinjo
Subaru is the son of Sho Shinjo and Cupido, who was trained by his uncle, Eiji Shinjo, in the ways of the sword after the events of the third Toshindabukai. One day, however, Eiji had suddenly disappeared and while Subaru had wondered on where he went to, he eventually took advantage of this and left school for a while in order to follow in Eiji and Sho's foosteps of being a world-traveling fighter.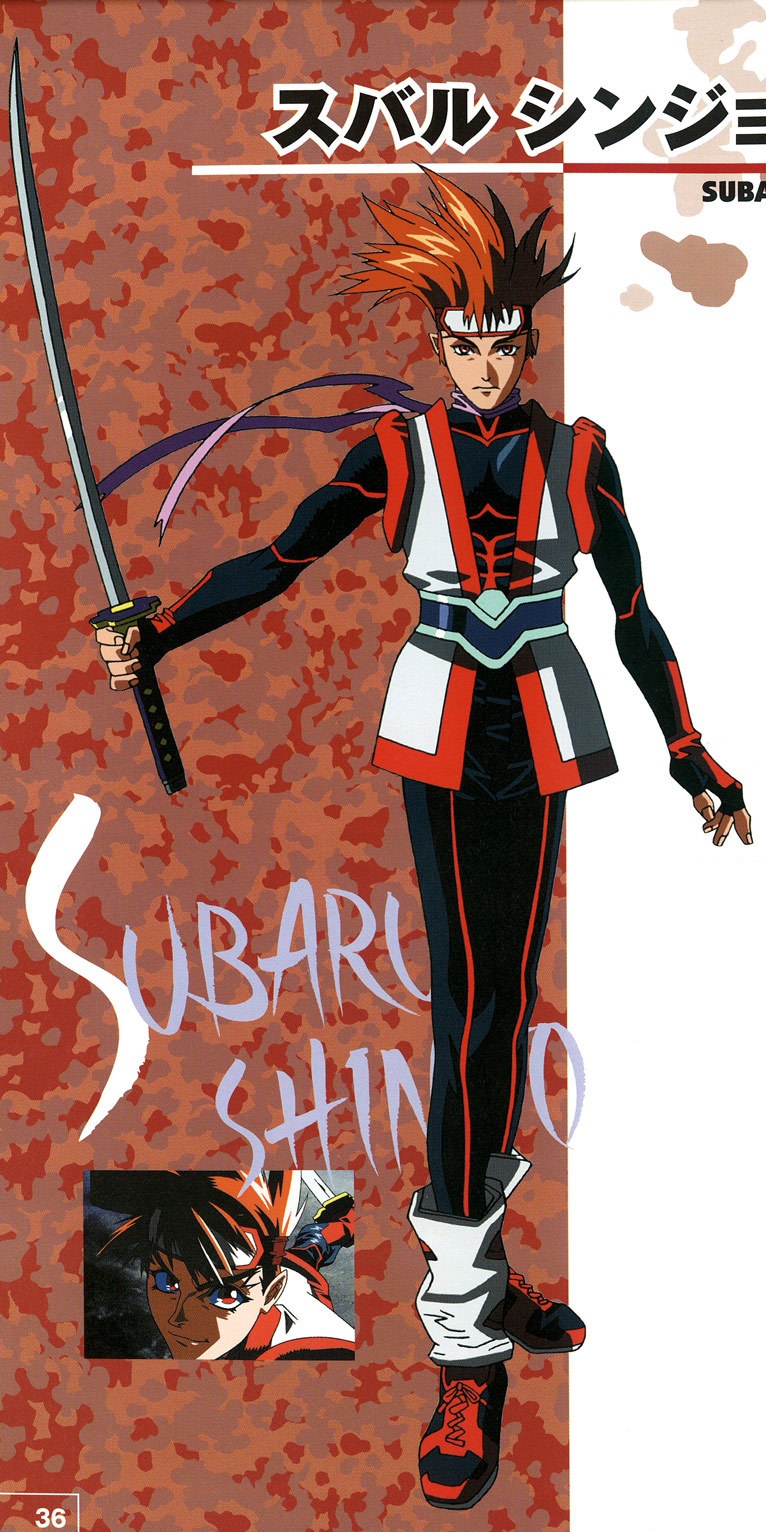 Fen Barefoot
Fen is a brash young boy with a pet pig named Wolfy, which follows him around wherever he goes. While Fen usually appears as having a cheerful personality, he has a troubled past. He lost both his parents when he was young and from then on lived with his grandfather, where the two made a living by fishing. Fen formed a team with a girl named Puella Marionette and her friend Lancelot Lakeknight, to compete in the fourth Toshindaibukai.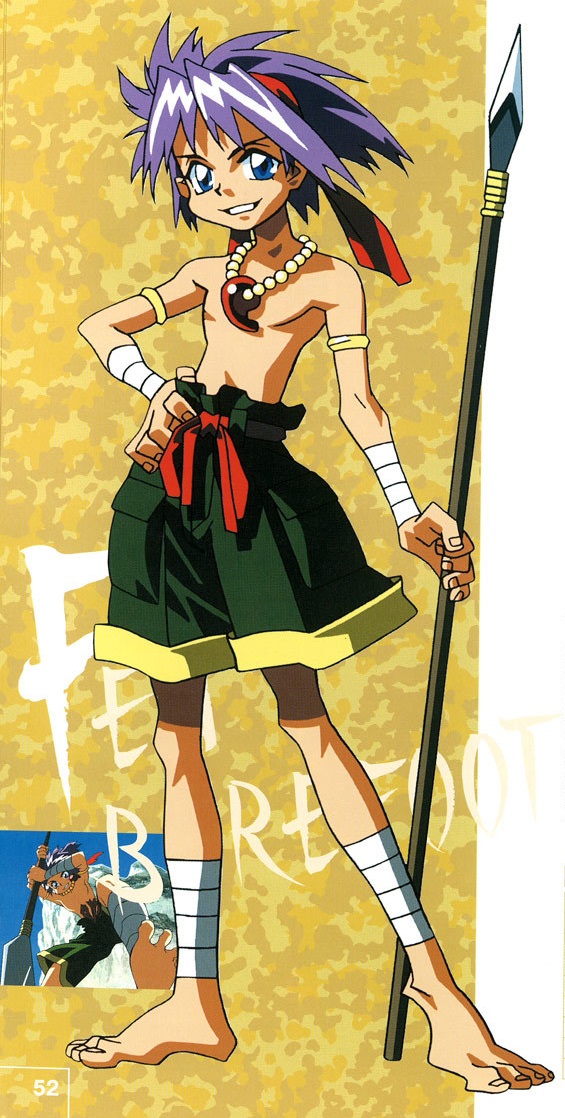 Rook Castle
As a child, Rook had always been a fan of the Toshinden tournaments and their champion, Eiji Shinjo and after watching many martial arts movies, he was inspired to join a school of kung fu. Training hard with his weapon of choice, the nunchaku, he gradually became stronger over the years. He started going downtown and challenging other strong fighters, defeating them all. However, he met his match one day, in the form of a young ninja girl who seemed to be fighting against her own will. Although he lost, he developed an instant attraction to her.